Cam'ron says the NBA "robbed" him
Wednesday 19 February 2003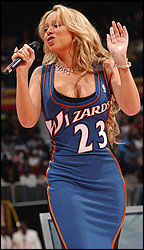 Mariah at the tribute

Mariah Carey may need a boy like Cam'ron, but evidently the NBA does not. The reason why, however, is up for debate. Cam'ron is claiming that the NBA showed him - and rap in general - no love on February 9 when it stopped him from performing with Carey at a half-time tribute to Michael Jordan during All-Star weekend in Atlanta. The rapper says that Carey asked him to perform "Boy (I Need You)" with her at the show and that the NBA flatly rejected the idea, claiming first that they didn't want rap performed at their half-time shows, and later, that a civil suit the NBA filed against his former label, Untertainment, was the reason they did not want him to participate.


The suit in question pertained to the unauthorized use of the NBA's trademarked logo in the 1999 promotion of Cam'ron's S.D.E. album. As a result, Cam's then-label was forced to pull the ads. However, a spokesperson for the NBA credited an entirely different basis for the league's decision, stating that representatives from Cam'ron's current label, Island Def Jam, made them aware that Cam'ron had an outstanding gun charge against him, and that together, the NBA, Island Def Jam and Mariah Carey's label, Monarc, decided that it was not appropriate to incorporate him into the show. The spokesperson added that because the show had had already been billed as Mariah Carey's tribute to Michael Jordan, creatively the duet did not make sense.


The gun charge in question occurred when Cam'ron was pulled over for a traffic violation in New York in July. After police saw marijuana in open view, they searched the rapper's vehicle and found a .22 caliber handgun. Cam'ron pleaded not guilty to charges of criminal possession of a firearm, criminal possession of marijuana and criminal possession of a forged fire department placard, and posted bail. At the time, Cam'ron's label issued a statement saying that it fully supported him and that it believed when the truth came out he would be vindicated.


Whatever the NBA's reason was for not including Cam'ron, he is clearly not happy about it. "There is nothing that will be bigger than a Michael Jordan tribute. I feel robbed," Cam'ron said. "Sitting up in a skybox, watching the All-Star Game, seeing the half-time show, I felt like I was supposed to be out there. I'm on a 40-city tour to promote the Diplomats album, so that means 40 cities are going to hear my opinion on this. This protest is just the beginning. I want compensation. I'm going to take this all the way to the championships."

(MTV News)

Many thanks to MariahDownunder.com.


There are not yet comments to this article.
| | | | | | | | | | | | | | | |
| --- | --- | --- | --- | --- | --- | --- | --- | --- | --- | --- | --- | --- | --- | --- |
| | | add comment | | | | login | | | | create account | | | | edit account |