Everything Mariah Carey has said about "Glitter"
Tuesday 21 September 2021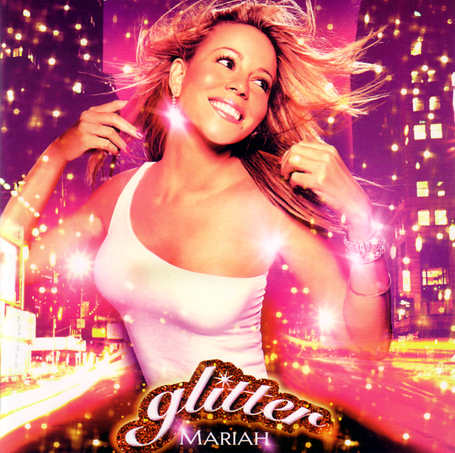 Mariah Carey is one of the most talented singers in pop history, but there's one line on her resume that still sparks plenty of debate among fans and critics: Glitter.

The movie premiered in September 2001 as the singer was struggling with serious personal issues. She had recently broken up with her then-boyfriend, Luis Miguel, after three years of dating, and she was still working alongside her ex-husband Tommy Mottola. In July 2001, she was hospitalized after suffering an emotional breakdown and making an erratic appearance on MTV's TRL.

Nearly 20 years later, Carey revealed that she was diagnosed with bipolar disorder in 2001, but she'd kept it a secret because she was afraid that the stigma surrounding mental illness would hinder her career. Though she received her diagnosis the same year she was hospitalized, the New York native said it took her years to realize she needed to seek treatment.

The "Hero" songstress later described that period as one of the most intense moments in her life. "It was a tough time when Glitter came out," she said during a November 2018 appearance on The Tonight Show Starring Jimmy Fallon. "It was a whole thing; it was a drama."

Critics didn't help the situation, pointing out what they saw as the movie's flaws and noting that the accompanying soundtrack didn't sell as well as Carey's other smash hits. "The press shouldn't really have compared Glitter to another Mariah Carey album, because it's a soundtrack, a concept album with an '80s retro theme," she told USA Today in November 2002. "Soundtracks aren't expected to sell like artists' other records. But I still think there are some really good songs on that record."

In 2018, however, the singer's fans known as the Lambily - managed to push the Glitter to the No. 1 spot on the iTunes album chart after a social media campaign known as #JusticeForGlitter. Despite her complicated history with the album, the "Fantasy" crooner acknowledged her fans' efforts in interviews and social media posts, saying the renewed success of the LP was entirely due to the fans.

"The fact that Glitter even came back is a thing," she told Jimmy Fallon after the album hit its belated milestone. "Whoever thought it was going to get to No. 1, all these years later? But it is a good album and the fans made it happen. I had nothing to do with it. The Lambily got behind it. It's a movement, it's bigger than me."

It was her idea
"I wrote the treatment," Carey told Movieline in August 2001. "It's a story I've wanted to tell for a long time. We start with my character, Billie Frank, as a 9-year-old girl. She's at a club watching her mother sing. Billie is light-skinned, and her mother is Black. And her mother is clearly out of it, high or drunk, we don't really know. At a certain point, the mother loses it in the middle of a song, she forgets her lines and she calls Billie to come up and sing. And the little girl saves her mother and the crowd goes crazy, because she's got this huge voice and she shouldn't be in a club anyway at two or three in the morning, Wait, am I giving away too much?"

It was not based on her own life
"Can I just say right now that this story is not autobiographical?" the "Heartbreaker" singer told Movieline, answering a question about how much of the movie was inspired by her own experience. "My mother is white, and she was never unstable. She's an opera singer. And the DJ that Billie meets isn't like any man I've ever been with. Trust me, Billie has totally different issues than I do. Not that I don't have my own."

It was absolutely not a musical
"It's not a musical," she told MTV in August 2001 ahead of the film's release. "I don't walk up and go, singing 'Why are you acting this way?' out of the blue for no reason. I always hated that, when people just, like, burst into song."

It was too saccharine
"It started out as a concept with substance, but it ended up being geared to 10-year-olds," she told USA Today in November 2002. "It lost a lot of grit. It was gritless, in fact. I kind of got in over my head."

It was briefly known as "the G-word"
In December 2013, the "Butterfly" songstress told Andy Cohen that she hated the movie so much that for a while she wouldn't allow people to say its name in her presence. "You don't understand, for years it was the G-word, nobody could talk about it; now I understand it as a kitsch moment in my life," she recalled. As for why it bombed at the box office, she said, "There was no script darling. And it was released on 9/11."

She now looks back on it with fondness
"The Lambs had this movement, it was called hashtag Justice for Glitter, which I think was directed at me, because I never really perform those songs because it almost ruined my life," the Precious actress told Good Morning America in November 2018. "But the truth is, it's for the nostalgia now because it's actually a really good album. I can say it now that they got it to No. 1, so I thank them. This is all about them. And I should not have to feel bad about that because it was all about the circumstances when the album came out, so it's exciting."

It was still a "debacle"
Asked in October 2019 to name some of the biggest moments in her career, Carey mentioned her 1997 album, Butterfly and Glitter. "I would say the Butterfly album obviously is a huge turning point; thus, the name and the whole thing," she told Variety. "And then fast forward, after the debacle that was Glitter, which everybody can read about in the book, because it's a real moment we're getting into. And by the way, #JusticeForGlitter with my fans. I hope you include that if we talk about it, because the album went to No. 1 this year. That was a huge achievement for the Lambs, who, by the way, named themselves. I did not name my fans, and I think it's insulting that other people have named their fans. But whatever, we love everybody."

She doesn't really want to talk about it
"Now, if people have questions, I can be like, 'Please refer to chapter x', rather than me having to stick up for myself, protect myself, defend myself," she told Vulture in August 2020, referring to her memoir, The Meaning of Mariah Carey. "Because we can all be wounded, but are we going to sit around licking our wounds forever?"

The timing was off
"The saga of making Glitter was a collision of bad luck, bad timing and sabotage," the Grammy winner wrote in her book, released in September 2020. "The box-office sales for Glitter were dismal, in large part because the country was still reeling from the 9/11 attacks. The tragedy was still fresh, and no one was ready for the lightweight distraction that was Glitter."

It was also called "Sparkle"
"I couldn't even say the word 'glitter'," Carey told CBS Sunday Morning in September 2020. "It'd be, like, people around me, we had to say 'sparkle' instead of 'glitter'. The Glitter era, it was an intense time."



(Us Weekly)

There are not yet comments to this article.
| | | | | | | | | | | | | | | |
| --- | --- | --- | --- | --- | --- | --- | --- | --- | --- | --- | --- | --- | --- | --- |
| | | add comment | | | | login | | | | create account | | | | edit account |