Lover Boy
Monday 26 February 2001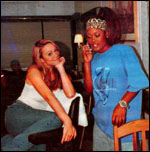 The first title of a track on the "All That Glitters" soundtrack is known. Just like her friend Mariah, Da Brat has left a voice message on her official website. She talks about a song called "Lover Boy", which she sang with Mariah, and about a remix with Lil' Kim. Here is the entire transcript of the message:

"Yo, party people in the house. What the deal? This Da Brat-tat-tat. Right now I'm in Chicago. It's like 2:25. You know what I'm saying. Got the number 22 and I got my new artist coming out. Deuce deuce 22 straight from the West Side of Chitown. We ride from the same little city and town. You heard me? He on the album, you know what I'm saying? I just got finished doing the joint with Mariah. "Lover Boy," that's the name of the joint. We about to do a remix with me and Lil' Kim.


I got everything going on. I'm writing these ballads and R&B songs. If y'all trying to get down and get something fresh and special, holler at Da Brat-tat-tat. You need your hair braided - you dig, holler at Da Brat-tat-tat. Leave your name, your number and all that. And I'll try my best to get right back at you, play boy and play girl. [laugh] Peace and out y'all.


Yo, I got a joint with Missy that I just did. I just did two joints for MC Lyte. Yo, we got it rolling. We got it going on, definitely. Plus, I'm on the remix with Lil' Kim. The one coming out. And 22 going to be on Mariah's new joint. We got tracks from Damizza, Damenyon, from Power 106 in LA. We got Nate Dogg on the joint. You know Mariah gonna have the blazing and sizzling tracks, you heard me? Anyway, it's off the heazy fo'sheazy my kneazy in my beegies. [laugh] Y'all don't know nothing about that. Aight, holler back. Peace."
Many thanks to Regina from Mariah Daily and Will from MCWNO.


There are not yet comments to this article.
| | | | | | | | | | | | | | | |
| --- | --- | --- | --- | --- | --- | --- | --- | --- | --- | --- | --- | --- | --- | --- |
| | | add comment | | | | login | | | | create account | | | | edit account |